013: Menealo - DJ Chato! (Miami)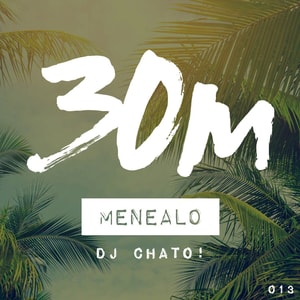 Global Bass and beats courtesy of DJ Chato!
Born in Puerto Rico to Mexican parents, Miami-based DJ Chato! steps up to bat on 30m episode 013. Blending traditional Latinx sounds (Salsa, Merengue, Bachata, etc) with more contemporary Trap and EDM beats, Chato! reps his roots hard on this mix, providing a taste of the Global Bass sound that he has become known for. Equally-suited for the club or the headphones, Menealo flips your favorite Latinx classics and reshapes them for 2018 and beyond. Dale play!
Tracklist:
La Vida es un Carnaval Intro
Bad Bunny - Estamos Bien (DJ Lauuh Remix)
Elvis Crespo - Suavemente (Onderkoffer Remix)
El Chapo de Sinaloa - Para Que Regreses (MORVN Flip)
Cris Cab ft. Willy William - Englishman in New York (Willy William Club Mix)
Happy Colors x Maluca - Bodega
Liro Shaq El Sofoke x Tief El Bellaco - Punto 40 Remix
Versano Laroz x Mc Vega - Muy Caliente (Mii Guel Remix)
Bombón and Trill Made - Get Ya Roll On (Merengón Remix)
Hiram x Gracie Chavez - Whine Dat Slow_(RH Remix)
Saso x Dos Flakos - Sazon (ft. Michy Mata)
Afro Bros x Ash Bootleg - No Type
DJ Scuff x Gtracks - La Patilla
Bachatrap - Walk it Talk it ft. Radical One
Oro Solido – El Baile Del Beeper (A-PAR Flip)
Bachatrap - Mas Lechon
ÀTTØØXXÁ - ÈÉHH VV‡‡
Avisale A Mi Contrario - Tito Rodriguez
Link DJ Chato! here:
www.instagram.com/originalchato
www.soundcloud.com/originalchato
www.twitter.com/originalchato
⚡️⚡️⚡️
30m: High quality DJ mixes, always thirty minutes long. Subscribe to hear hand-crafted, exclusive mixes from internationally renown DJs. All styles. Curated by DJ Stepwise. Join the movement, tag us: #30mDJmixes